well I finally got me a one of those digital cameras, so now i got some updated pictures of "white fog"
---
1999 quadcab 1500 4x4 360 slushbox specs
---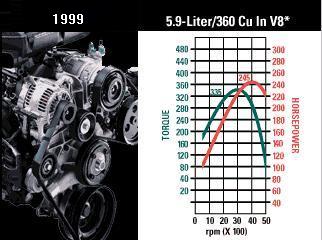 Engine: 360cid (5.9 liter ) 90 degree V-8 OHV
Bore & Stroke: 4.00 x 3.58 in. (101.6 x 90.9 mm. again...for the euros)
Horsepower: 245 hp @ 4000 rpm
Torque: 330 ft. lbs. (448 N.m) @ 3250 rpm
Transmission: 4 Speed Electronic Automatic w/ Lockup Torque Convertor
Transfer Case: NV241 "shift on the fly" part time case (no pansy push buttons, I got a lever!)
Axles: (fr/rr): fr, Dana 44 with center axle disconnect (no IFS junk here!) rr, Corporate 9.25 semi floater w/ limited slip differential, 3.54 ratio front and rear.
More stuff to come later....for now check out the first pictures I have of "white fog"